The 2023 Bill Shankland Memorial Trophy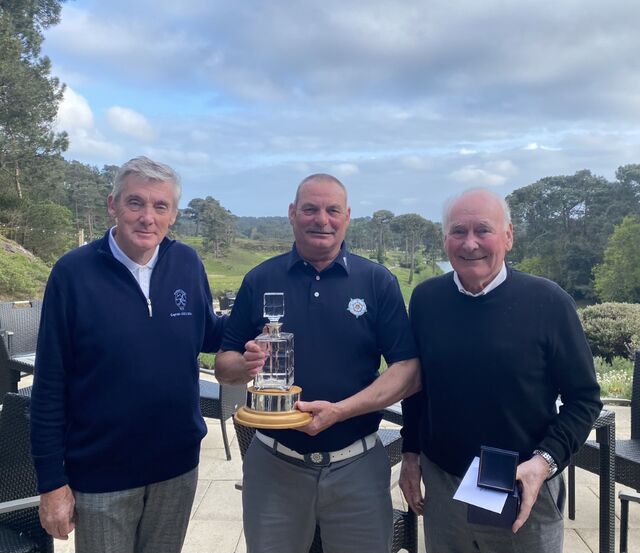 2023 Winner: Richard Norton (Beverley & East Riding, Yorkshire)
Left to right: Vaughn Hartman (Parkstone Men's Captain), Richard Norton (2023 Winner), Mike Gibbs (Parkstone President)
Entries:
Open to Men aged 55 years or more on the 4th May 2023.
Players must belong to a golf club and have a Handicap Index of 5.0 or lower
Where entries exceed 81 in number, there will be a handicap ballot. However, the Organising Committee reserve the right to include 6 members from Parkstone in the final start sheet.
The Organising Committee reserve the right to decline a players entry if it is believed their ability does not match their Handicap Index. Players who have more than eight general play scores in their most recent 20 will be assessed to look at the difference between their Competition Score differential and their General Play differential.
Entry Fee:
£100 for visitors and £40 to members of Parkstone Golf Club.
No refunds will be given after the draw has been completed unless a substitute is entered.
Practice Rounds:
Bookable after the draw has been published. Available for £40 between 2-4pm on 03/05/2023
Prizes:
Scratch and handicap prizes will be in the form of vouchers, redeemable at any PGA Shop.
In the event of a tie, 1st place for the Bill Shankland Memorial Trophy will be decided by a stroke play play-off over holes 1, 2 & 18. If players are still tied after these 3-holes, then sudden death over the same holes. Other tied places shall be decided on count back.
Please take a moment to familiarise yourself with the Club's Code of Conduct for Open Competitions
Gross Leaderboard
R1
R2
Total
Par
1st
Richard Norton Beverley & East Riding
73
69
142

-2

2nd
Steve Sansome Birstall
75
68
143

-1

2nd
Ian Moore Romford
73
70
143

-1

2nd
Andy Bow Stoneham
72
71
143

-1

2nd
John Kennedy Frilford Heath
70
73
143

-1

6th
Tim Aggett The Warren
75
69
144
LEVEL
6th
Kenneth Meaden Stoneham
70
74
144
LEVEL
8th
Steve Graham East Sussex National
73
72
145
+1
8th
Ian Attoe Worplesdon
72
73
145
+1
10th
Kevin Parkes Lindrick
77
69
146
+2
10th
Bob Florence Rochester & Cobham Park
73
73
146
+2
10th
Richard Allen Rye
73
73
146
+2
10th
Stuart Brown Castle Eden
73
73
146
+2
10th
Aide Firman Luffenham Heath
69
77
146
+2
15th
Steve Cain Garforth
75
72
147
+3
16th
Mark Logan Copthorne
77
71
148
+4
16th
Andrew Smith Royal Ashdown Forest
76
72
148
+4
16th
Gareth Bradley Bramhall
73
75
148
+4
16th
Danny Holmes London
73
75
148
+4
20th
Andrew Woodhead Hessle
76
73
149
+5
20th
Kevin Blow Sleaford
75
74
149
+5
20th
Mike White West Wilts
75
74
149
+5
23rd
Andrew King Garforth
76
74
150
+6
23rd
Mike Spearing Came Down
76
74
150
+6
23rd
Trevor Foster Pleasington
76
74
150
+6
23rd
Philip Judge Rochester & Cobham Park
76
74
150
+6
27th
Mark Graham Snape Tidworth Garrison
79
72
151
+7
27th
Martin Galway Pyecombe
78
73
151
+7
27th
Danny Curtis Knole Park
76
75
151
+7
30th
Alan Mew Stoneham
74
78
152
+8
31st
Neil Self Stand
80
73
153
+9
31st
Ian Rennie Hindhead Golf Club
78
75
153
+9
31st
Douglas Cameron Worthing
77
76
153
+9
31st
Christopher Audin The Warren
76
77
153
+9
31st
Martin Milne Stoneham
76
77
153
+9
31st
James Weigall Banstead Downs
76
77
153
+9
31st
Rhys Francis
75
78
153
+9
38th
John Whittle Appleby
79
75
154
+10
38th
Martyn Grimley Ringway
79
75
154
+10
38th
Richard Elmes Stoneham
79
75
154
+10
38th
Paul Nancarrow Old Fold Manor
78
76
154
+10
38th
Colin Bray
76
78
154
+10
38th
Andrew Atkinson Windermere
75
79
154
+10
44th
Matt Jarvis Rochester & Cobham Park
78
77
155
+11
44th
David Niven East Berkshire
77
78
155
+11
44th
Simon French Littlehampton
75
80
155
+11
44th
Peter Bicknell Torquay
74
81
155
+11
48th
Ken Whitton Ashridge
82
74
156
+12
48th
Ian Clarke Lindrick
81
75
156
+12
48th
Tim Whittaker Beaconsfield Golf Club
79
77
156
+12
51st
Jonathan Edward Greenough West Lancashire
81
76
157
+13
51st
David Wakefield Nelson Northenden
77
80
157
+13
51st
Paul Wilkinson Chelmsford
77
80
157
+13
54th
Mark Stones Boyce Hill
81
77
158
+14
54th
Richard Darlington Royal Ashdown Forest
80
78
158
+14
54th
Darren Gatward Calcot Park
77
81
158
+14
57th
Todd Sothcott Ferndown Golf Club
85
74
159
+15
57th
Rick M Osborne Churston
82
77
159
+15
57th
Tom Hawkings Sunningdale
80
79
159
+15
60th
Terry Falck Isle of Purbeck Golf Club
81
79
160
+16
60th
Mark Whiten Orsett
80
80
160
+16
60th
Liam Kelly The Wisley
78
82
160
+16
63rd
Simon Crockett Addington Palace
83
78
161
+17
63rd
Nathan French Chart Hills
79
82
161
+17
63rd
Andy Hirst Skylark
76
85
161
+17
66th
Tony Allsopp Tiverton
84
78
162
+18
66th
Andrew Carman Coventry
81
81
162
+18
66th
Kevin Smale Purley Downs Golf Club
79
83
162
+18
69th
John Moody Bentley
83
80
163
+19
69th
John Wright Basildon
78
85
163
+19
71st
Jeffrey Stewart Bearman Orsett
84
80
164
+20
71st
Paul King Orsett
83
81
164
+20
71st
Chris Aukett Boyce Hill
80
84
164
+20
74th
Vince Joyce
81
84
165
+21
75th
Chris Lane Royal Mid-Surrey
86
84
170
+26
76th
Alan Hodge
85
86
171
+27
77th
Andy Barnes Pyecombe
75
WD
WD
78th
Martin Fell Ladbrook Park
82
WD
WD
78th
Russell Thwaites Littlestone
82
WD
WD
80th
Gary Prince Brokenhurst Manor Golf Club
83
WD
WD
81st
Colin Lazell
87
WD
WD